Bsharry the home land of my heart.
(Gibran Khalil Gibran)
Bsharry Profile
Bsharry "Also known as the Town Next to Heaven", is the most beautiful summer and winter resort, Located a height of 1,400 meters beneath the immortal trees "Cedars" and watered by the melted snow of the highest point in the Middle East "Cornet el Soda 3086 meters" or the black summit, near the hands of the miraculous "Saint Charbel" and perched on the cliffs of the valley of saint's "Holly Valley", the land and source of inspiration of Gibran Khalil Gibran "The Prophet" the holy land that bloomed with incense and sanctity, the land of infinite beauty and contrasts to whom the past has bequeathed a generous legacy, a tourist paradise where once you start to delve into its splendors you will fall forever under its spell.
Read the history and discover the town of great men.
Enjoy the smell of the Cedars symbol of Lebanon, contemporary of King Salomon. You can lay your eyes on the remaining 400 trees which are over 1500 years old. The Cedar tree, majestic and indestructible, is the emblem of Lebanon and adorns its flag.
Walk around and see the sights, feel the sanctity of the Holly Valley (a detailed map is provided).
Visit the Museum of the Prophet Gibran and explore his artistic wonders.
Welcome
Bsharry community has the chance to communicate and reach every corner of the world.

From bsharry you can get a free e-mail as follows:

- yourname@bsharry.com (If you are a member of rahmeh family).

As well, a chat room is available for all to meet and chat.

Also an instant messenger is available to ease the communication between members of Bsharry community, version 1.0 allow you to add and chat with your contacts from MSN Messenger and AOL Messenger.

in very near future an SMS service will be provided for mobile short messaging to more than 40 countries with 5 free SMS per day per user.
Our Mission
To show the real face of Bsharry and abroad our beauty all over the world.
To give the chance to immigrants to reach their home town and communicate with their parents and relatives.
Road to Bsharry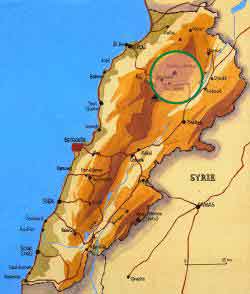 Basic Telephone Numbers
| | |
| --- | --- |
| Designation | Number |
| Post Office And Information | 06-671111 / 222 |
| Red Cross / Ambulance | 140 Or 06-672504 |
| Information | 120 |
| Security | 112 Or 06-671209 |
| Fire Brigade | 125 Or 06-671664 |
| Municipality | 06-671068 |
| Electricity | 06-671028 |
| Water Pomp | 06-672260 / 261 |
| Gibran Museum | 06-672560 |
| Gibran National Committee | 06-671043 / 044 |
Saint Therese Visit to Bsharry will be published soon